A gated community is a form of a housing estate or residential community that is guarded and enclosed within walls or fences. If you are someone who fancies having a quiet life equipped while still having access to all the modern facilities, living in gated communities could be the right choice for you. Living in such private communities has its benefits, which make it a desirable choice of residence. So today, we bring you some of the benefits of living in a gated community that might get you to consider buying a home in such a place. 
One of the biggest attractions to living in a gated community is safety and security. The idea of gated homes is to be in a closed-off and well-guarded surrounding. Gated communities usually have fixed entrance and exit points, that are either manned or have electronic security. This means that only verified residents and guests can enter the community. The guards at the security gate ensure that trespassers or thieves do not get anywhere further than the gates. There will also be CCTV cameras for 24/7 surveillance, electric fences, and so on.
Gated communities offer extra privacy and exclusivity from the outside world as the community only gives access to residents and verified guests. You can have your own space away from any hustle, intruders or trespassers. This kind of exclusivity makes gated community living so desirable. 
The sense of community in a gated residence will make you feel cared for and secure. Often, there is a sort of unspoken understanding between the residents. Many of the communities also hold community events or festivals for the residents to gather together and enjoy. The controlled communal facilities help you to get to know your neighbors, which results in a sense of familiarity and trust among the residents.
Another benefit of living in a gated community is the well-integrated lifestyle facilities that it provides.
Gated communities have shared communal facilities such as a basketball court, children playing ground, swimming pool, gym, and many more. It makes for a comfortable living that is desirable to most buyers. 
Gated community living keeps away trespassers. No more annoyance from solicitors.
The fact that you can restrict or allow entry to whoever you want into the community makes it a safe place from solicitations. This increased sense of freedom and control is a great plus to have and can save you from the havoc and frustration that come from solicitors such as salesmen or unauthorized people asking for donations.
6. NO TRAFFIC OR SPEEDING VEHICLES
The exclusivity in gated communities means everything is controlled. For example at Nakuru Meadows, over speeding or hooting is not allowed, drivers are asked to drive at 5kmh.
The constant bustle and noise of traffic is not something you will have to worry about. Life in a gated community brings a wonderful sense of peace and quietness away from the usual city buzz of today's technology-driven world.
You will enjoy eco-friendly homes when you buy a home in a gated community. This is because some gated communities like Nakuru Meadows use natural sources of energy such as solar panels. Each home comes with an individual solar panel. There is also an installed reverse osmosis water treatment plant that helps conserve and purify water. 
This allows homeowners to save a considerable amount from their energy bill which adds to the benefits of living in a gated community very significantly. This kind of green gated community is thoughtfully designed with a focus on energy and water efficiency. This way they promote water and electricity conservation, improve air quality, and thus create a healthier living environment.
9. A SAFE HAVEN FOR CHILDREN
Living in a gated community provides a haven for children. Children can be left outside without worry, the safety and security in gated communities are especially good for the little ones with aspirations for exploring. Since there are no open roads with moving traffic, it is safer to allow your kids to play outdoors; you wouldn't have to worry about them bumping into strangers either. With communal areas set for the kids to play, it is also easier for parents to monitor them.
The final benefit/ reason why you should buy your next home in a gated community is that they have a greener environment. You'll always have a breath of fresh air right at your doorstep.
Gated communities have a greener environment in general due to the absence of moving traffic or outsiders, they are far less susceptible to pollution. With its regular maintenance and controlled facilities, a breath of fresh air is guaranteed.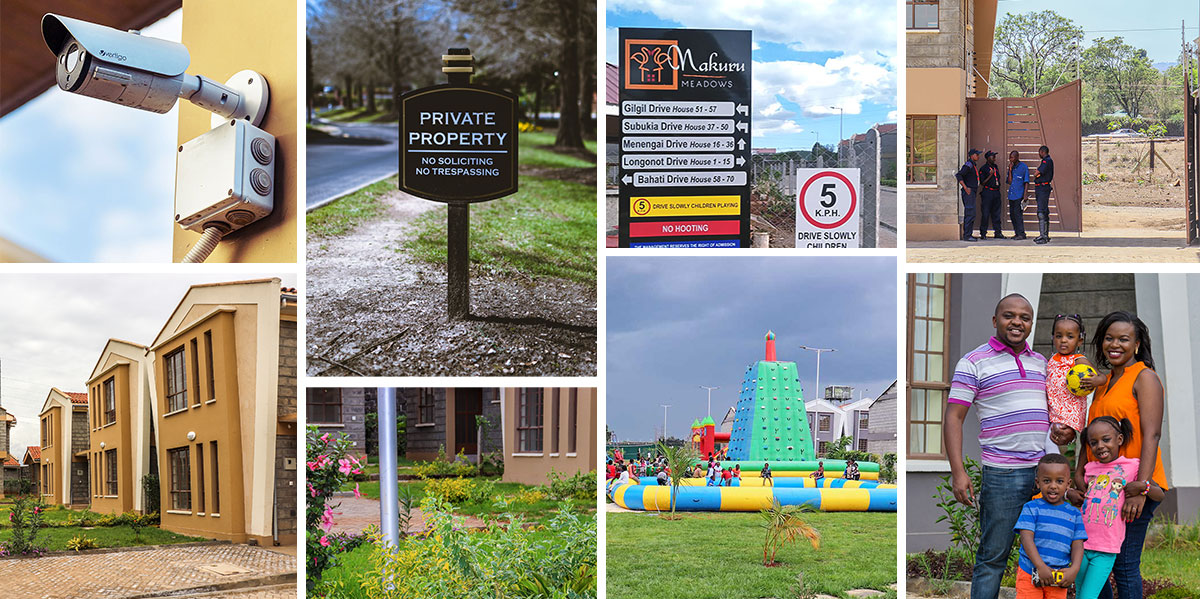 Which one of these pros of living in a gated community has stirred your thoughts? Let us know in the comments below.
At Nakuru Meadows, we have a beautiful gated community consisting of 70 family homes. We hope this blog inspires you to consider living in Nakuru and more so at Nakuru Meadows.
Learn about our current prices and offers:
To visit please contact us at 0708 822 583 or 0715 856 848. You can also email us at sale@nakurumeadows.co.ke